What We Do
Prodigal Ministries provides stability and support to the formerly incarcerated who are homeless, in need of shelter, food, clothing, and the means and accountability to rebuild their lives. Encouraging each one to become self-sufficient, law-abiding members of society avoiding the devastating cycle of recidivism.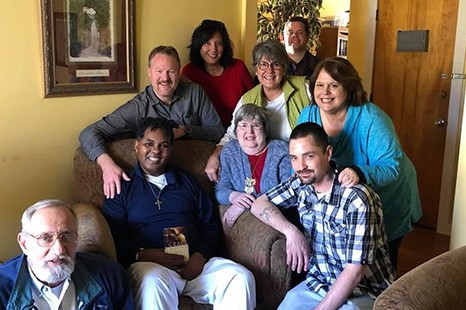 Enabling transition to successful living
Prodigal helps valuable individuals restore broken relationships, change their future and the direction of their lives for the next generations. 
We help ex-offenders obtain legitimate employment, create positive social networks while developing healthy daily routines, and rejoin their families. These are significant factors that reduce recidivism, advance the economy overall by reducing the unemployment & crime rates, costs to taxpayers, and in-turn make the Commonwealth a better place to live.
Addressing fundamental lifestyle needs
We offer comprehensive, purposeful assistance in four key areas:
Physical (Clothing, Hygiene, Food, Safe Shelter, Medical Care, State ID, Birth Certificates), Emotional (Drug & Alcohol Counseling, 12-Step Programs, Parenting, Life Skills, Mentors, Mental Health Counseling), Social (Volunteer Opportunities, Weekend Furloughs, Family Visits, BBQ's, Birthday Parties, Annual Christmas Parties) and Spiritual (Bible Study, Mission Trips, Retreats).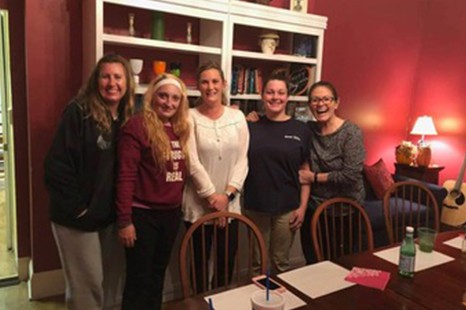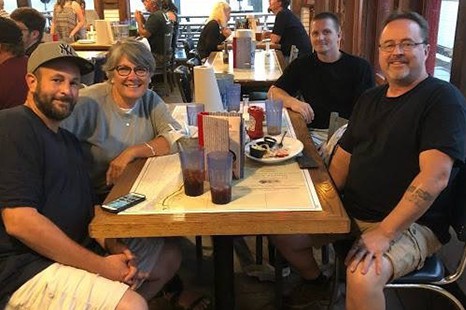 150
Drug & Alcohol Counseling Sessions
Providing Healing, Foundations in Faith & Focused Living
In each of our transitional homes, we cultivate a life of substance and accountability. This enables our clients to rebuild their lives on solid belief in who they are, in disciplined living, responsibility and self-respect.
Success story
Andrew Frakes
The guidance of Prodigal Ministries and the love of God have positively impacted all parts of my life. As a husband and a parent, I have learned to love like my Heavenly Father. I have learned to work hard at my job as if I was working for Jesus. As a brother, son, and friend, I try to show love, compassion and understanding as God leads me.
Jeff Kelien
Hello my name is Jeff Kelien and I'm a recovering addict with 4 and a half years sober all due to God's grace in my life. I have become very successful in opening my own business. I have 8 employees a beautiful fiance. Prodigal Ministries has been the only one who believed in me. I strive every day to give back the best way I know how. Thank you Prodigal Ministries for your guidance.
Rollan Kimberly
Rollan took the Malachi Dad's Bible Study to heart! His twin boys have him back in their lives. He is a good man, a good father, a good son, a good friend to Prodigal, and continues to be an encouragement to the men who have followed him. Most recently he has returned to the prison where he spent time and shares his story of redemption and restoration. A good man!
Moki Moki
This kid, well he's a man with a kid's big heart. Crazy talented musician, singer/songwriter, and is pursuing that dream while working full time and preparing for a wedding next year! And he finds time to play on the Prodigal Softball Team every season. He loves speed – motorcycles and covering left field! He is a loving son, caring brother, good friend to many and in training to be a godly husband to Kayla.
James Prince
James Prince experienced the ultimate experience in the life of a kid who loves basketball in Kentucky. He played on a State High School Championship team in 2000. A good kid, smart, handsome and fun to be with. But like many of us he made one bad decision, one with a life altering consequence that led him to prison. While at Prodigal Ministries he worked, went to college and made a huge impact on all who were blessed to know him. Today he is a good man, still smart, still handsome and still fun to be with, but maybe not so fast up and down the court.
Clint Starnes
Clint has a quiet inner strength as well as outer strength. This guy takes care of his mind and his body. His favorite girl is his daughter. He is also a good and grateful son to his mother. Clint has been able to return to the prison he spent time in to give his testimony and story of redemption and restoration, encouraging the men behind him. Clint is faithful to his Prodigal family too!
Jeff Vierling
Jeff is faithful to his God, his church, Valley View Baptist where he was baptized, his precious little daughter and family, and his job. He is an encouragement to the folks around him. Gentle, kind and a loyal U of L fan!
April
This woman is a true warrior. While at McCauley, she went to school to update her cosmetology license and has been making people beautiful ever since! Not only is she a wonderful mother to her adult son . . . but a great, great-auntie to 5 precious little ones. She is caring for them as someone cared for her son while she was away. She does homework, gets them to practices and attends their games, celebrates their birthdays and gives them much needed stability during this season. She is laying down her life for her family. Thankful to know her and be a part of her Prodigal family.
Kerry Dupont
What an incredibly talented man! He has blessed Prodigal not only with his presence but his gifts of artwork over the years. Today he is enjoying hanging out with his two grandsons and loving on his family and friends. God has restored a life and a family.
Joe Montgomery
Joe is a long time friend of Prodigal Ministries. Ten years! Today he is a loving husband, doting grandfather, and he shares a special relationship with his son, spending time with him in daily devotion and prayer before work. Beyond his family and his job, Joe points people to the One who gave him his life back. Weekly, Joe shares the gospel of Jesus in a Celebrate Recovery group at his church.
Jodie
If there was a picture next to "good friend" it would be our beautiful Jodie. Whether the need is encouragement, counsel, a wise word (or wise crack), our Jodie is your girl! She is honest and forthright and wants the best for everyone. A wonderful mother to a couple of pretty fabulous kids. Thankful she is in the Prodigal family.
Cody Stinnett
God can change the culture of a family. This little brother followed in his big brother's foot steps from prison to Prodigal Ministries. Cody embraced the programs at Prodigal, found a church family and was baptized by his brother. Both brothers are changing the culture of their family, raising their children to know Jesus and are a role model in their lives. Proud of this young father and the man that he is today.
Brian Spencer
What a special guy. I met him inside and he was so kind. He worked hard to make it when he got out. He let circumstances get in the way of his success once, but overcame them. He did what he needed to do and climbed to success. Brian works hard and has reconnected with family and puts God and family first.
Ashley Edwards
This young lady has worked very hard to weave new people, places and things into her life since her release from prison. Before her release, she made up her mind to never go backwards ever again. Her struggles don't hold her down, rather, her faith, her children, her family and friends, lift her up and are her life's focus. We are so proud of the strong woman of God you have become Ashley!